Pivot
Physical book purchase choices below!
*

Shortstop player Luciana Herrera knows she is possibly on the world's worst softball team. She doesn't care, boarding school is busy. She does care about the fact that she has a huge crush on the second baseman, Ella Xie, and can barely talk to her. How are they supposed to stay in sync?

A slice of life love letter to softball.

*
UPDATE 3/24/2020: The PDF is now pay what you want! The sites I hosted Pivot on make it a hassle to read, and I always want it to be free and available - so it is! I will also be looking for a new place to put it online.
Started as a webcomic in early 2017, the queer sports comic Pivot now comes in revamped print and PDF form! There are new pages and updated art in this version.

Includes
The 106 page PDF of Pivot that has 10 pages of exclusive behind the scenes content.
Want to get a physical copy of Pivot?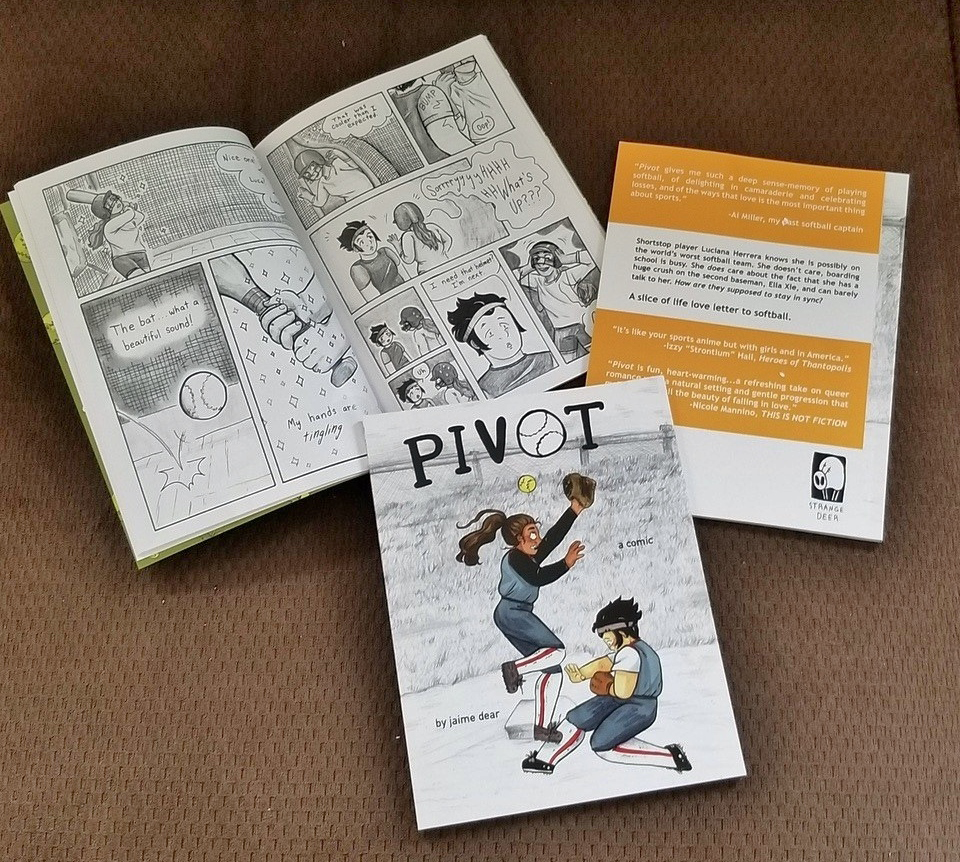 Choose the option in the "Physical Copy" section below the "Purchase" section.
Please make sure to include your address!
Every purchase includes the PDF as well.
Help get Pivot to people who need it and support public libraries!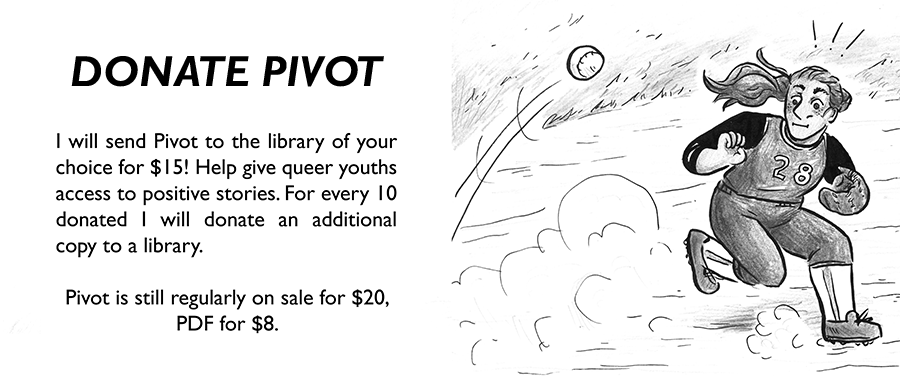 Feel free to contact me at dearjaimedear@gmail.com or on Twitter if you have any questions.
Links
Pivot on Goodreads
My Ko.Fi
Jaime on Twitter
More comics and zines by Jaime!
Thank you! :)
Download
Click download now to get access to the following files:
Physical Copy
Support this comic at or above a special price point to receive something exclusive.
Pivot Donated Book
Donate a copy of Pivot to a local library, LGBT youth center, or more. You can choose one yourself or have me choose. Please fill in the prompted fields when you order!
I will check with the library or center to make sure they take donations and keep you updated during the process.

Pivot Physical Book
A printed copy of Pivot!

Please include your address in the prompted fields, and I can ship it right to you.